CLICK HERE FOR NO-GHOST VECTOR FILE!
OR CONTINUE READING BELOW TO LEARN EVERYTHING YOU NEED TO DO A KICKASS JOB OF PUTTING VINYL ON YOUR CAR
So you've decided to make an Ecto, eh?
This thread probably should have been made long ago to go along with the other "This Question Gets Asked So Much Why Don't We Just Have A Thread Stickied So We Have Something To Snarkily Post When The Question Inevitably Continues to Be Asked? threads.
Threads like this
viewtopic.php?f=13&t=3968
and this
viewtopic.php?f=13&t=18468
Anyway, back to the part about you making an Ecto. Odds are, the first thing on your to-do list after finding the car is either lightbars or door logos. This thread will help you with the latter.
What Is Door Logo?
The first thing you need to know is that door logos come in two varieties: paint and vinyl. If you want to paint your door logos on, this is not the thread for you. If you want to use vinyl, continue reading. Vinyl will come in several varieties as well, the ones that matter to you are straight up vinyl and vinyl applied to shaped magnets.
If you want vinyl applied to magnets, stop reading this thread. Also, go outside an apologize to your car's paint for what you are about to do to it. Oh and make sure to order spares for when the original magnets are stolen while you're getting a sub at Jimmy Johns. That's what you get for not eating at Quizno's.
As for straight-up vinyl, you're reading the right thread. Vinyl is essentially thin plastic with an adhesive agent applied to one side. The letters on the side of your local electrician's truck are vinyl. The livery of police cars is vinyl. The wraps on race cars are vinyl. Even the supposed matte-black "paint" on
this Lambo
is vinyl. Holy shit, right?
Large sheets of colored vinyl are run through a plotter and cut into shapes. For multi-colored logos like the No-Ghost, this usually involves layering red vinyl on top of black vinyl. Typically this is what your average no-ghost door logo is composed of:
If a vinyl wrap is more complex and has blended colors, it will most likely be printed instead of cut, but since we're just making no-ghosts and caution striping, it will probably be cut. Your typical vinyl is made by 3M (yep, the tape guys) and is meant to last up to 3-7 years. It 's usually very resistant to moisture and UV sunlight, my vinyl peeled loooong before it ever started to fade.
But... My Car?
Quit crying, baby. Vinyl usually has
zero
impact to the paint it is applied to. It goes on and comes off real easy-like. Your car's paint won't fade unevenly due to vinyl, unless you leave the vinyl on there for like a decade. The 1K spent several years decked out as an Ecto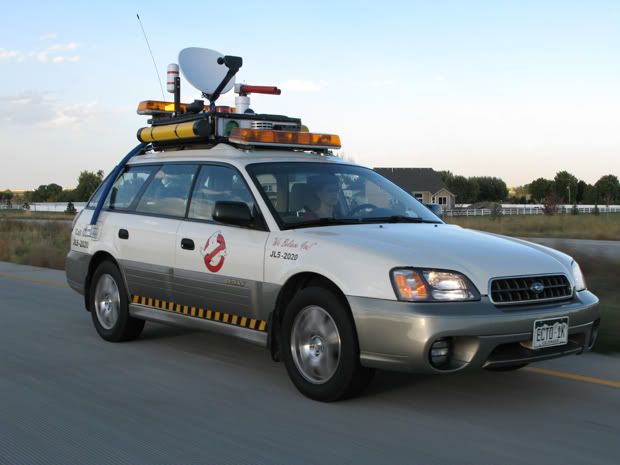 And when the time came to take the vinyl off, well.... let's just say someone out there is driving around a Subaru and has
no idea
what it used to be.
Where I Get And How Make?
There are lots of sources out there for No-Ghost logos. I typically default to this website:

BrandsoftheWorld.com,
it's a great resource for finding vector art for logos. If you search "Ghostbusters" you'll find the regular no-ghost, the GBII logo, and a Filmation GB logo, I believe. You can also find Aliens and Jurassic Park and, well, lots of other logos on there.
Let's take a step back, actually. I mentioned "vector art" a moment ago and we should talk about that. Vector graphics are images stored as lines and mathematical formulas, instead of pixels. This means that they are infinitely-scalable -- you can take a vector image and make it as big as you want without it getting grainy.
Here is more info on that.
Vector art is typically made in Illustrator or a similar program, and will usually have a file type of .ai or .eps or something like that. The benefit of sites that provide these vectors is that you won't have to pay extra for your sign guy to make one from scratch - you'll just hand them the flash stick with the file on it and say "please print one of these that is X-inches wide" and bam!
There are also several "styles" of no-ghost out there that you should conscious of before diving in.
There is the default, accurate logo.
There is this POS, chunky logo that everyone hates.
Oh look it's missing a chin! We'll come back to that.
And there is the logo missing the black background behind the ghost. This logo is never seen on any Ecto in the films and, personally, I hate the shit out of it.
I opted for a version of the first logo with a black outline around the red that I think looks snazzy. My point is, it's up to you what you actually do with it. Byran Fear and Sean Bishop actually hand-drew their logos to be more representative of how a body actually works, with the chest in front of the armpit instead of the arm just sticking out of the chest.
Like so:
And that's fine. It's your Ecto. My advice when it comes to Ecto building is making sure that everything on your car is a
conscious
decision - instead of just hastily slapping on whatever you find and then realizing later that it's not what you intended....
Make sure your logo has eyebrows and a chin. This is a frequent problem.
Also, this
I have some more advice for you, first-time builder. This may not jive with what you want, but in my experience this is what looks best. Also, this is my thread so stuff it. Let's assume that the car you are converting is white. Maybe it's a hearse that's been painted, or maybe this is just the factory color. There is almost
no possibility
that the white of your car is going match any white vinyl
perfectly
. So if you print the white part of the ghost, you run the risk of having two whites that "clash". Leaving the white part of the ghost "empty" will allow the actually paint of your car to show through, and will ensure that everything matches.
Here are some pictures to illustrate my point.
The top image shows how a logo with white printed on it appears, the bottom image has been photoshopped to make the ghost and the paint match.
And another
Now, including the white of the ghost isn't
wrong
or
bad
. My second car was actually fairly off-white and if I hadn't left the ghost empty, the color difference would probably drive me f****g insane. That's why I include this tidbit.
ANYWAY, ONCE YOU HAVE THE FILES
The first thing I recommend is to photoshop a picture of your car with all the logos and lettering you want on it. This will help you plan everything to a T, and will show the vinyl guy
exactly
what you want done. Whether or not your Ecto "succeeds" as a finished project depends heavily upon the aesthetic of your design. Caution stripe EVERYWHERE or having your
lettering upstage your door logos
can be avoided easily if you plan everything out with conceptual rendering. I was pretty lucky with mine, I think.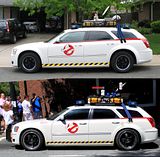 You can get vinyl done pretty much anywhere. Look for businesses with names similar to "Action Signs" or "Signs Now" or "Something Something Graphics" or "Hurfadurfadurf Signs" and you will find a company that will be able to produce and sell exactly what you need for the graphics on your Ecto.
It's probably a pretty good idea to go into several places and ask them straight-up, "How much would it cost to print a pair of 15" two-color vinyl logos and install them on my doors?" They will probably give you a price in square-footage, but have them calculate it out. The cheapest I ever got my logos for was $15 each. If the sign guy quotes anything higher than $30 apiece, you tell him to
go kick rocks.
If your sign guy asks what you're doing, just be honest. "I'm building a replica of the car from Ghostbusters." You don't need to say anything about the kind of car, or that the logo is copyrighted or anything like that. Addressing that right off the bat is pretty bad - guilty people make the first move. If your sign guy says he doesn't want to print the logo because it's probably copyrighted, you can tell him to
go kick rocks.
Your goal should be to find a sign shop with people working there who are between the ages of 20 and 35 - maybe some recently-graduated graphic design students. If you hold out for a sign shop with the right people, you'll find that they will be just as excited about building a Ghostbusters car as you are, and will thank you for providing a break from mundane delivery vehicle wrap designs. I've almost always walked away with spare logos and graphics because I find cool people to do business with.
Personally, I recommend having the sign guy do your installation. Photoshop together a picture of your car with the logos exactly where you want them, and give them to your sign guy. He will do the rest as far as getting the vinyl on without any bubbles or off-set gaps ( LIKE ON THE SONY CAR IN THE FIRST PICTURE). I applied my lettering myself, but I do recall it being a pain in the ass to get them level the first time around.
Yipes! Stripes!
REAL IMPORTANT NOTE:

CAUTION STRIPES DO NOT AN ECTOMOBILE MAKE.

There was a time when builders went absolutely bat-shit nuts with stripes, but it appears that trend is fading.

This is a good thing

. Use stripes sparingly to prevent a garish Ecto.
When it comes to the caution tape, you can go whatever route you like. Hardware stores sell caution tape in both yellow/black and red/white varieties, make sure to pick the right one. I usually have my stripes printed so they are the exact height I want. I strongly recommend
against
just grabbing the regular reflective stuff off the shelf. You won't notice the difference at first, but as soon as someone takes a picture of your car at night, the reason for this preference will be painfully obvious.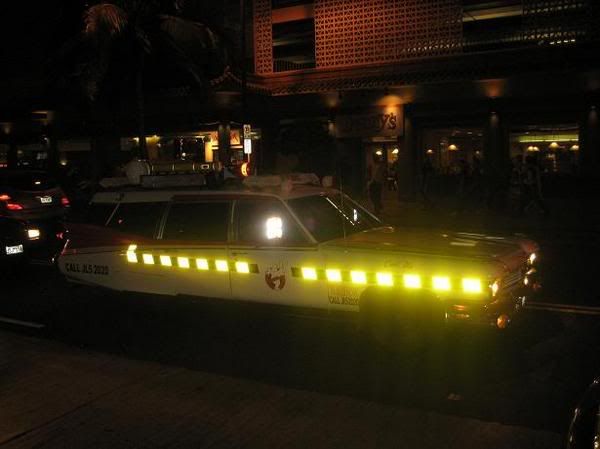 You're Done!
You have vinyl on your car! Now go enjoy it! Hope you like manual car washes because automatics might tear off some lettering here and there, or at the very least start the peeling process!
The End End
All done being a Ghostbuster? Grab a heat gun and shoot your logos, it will peel off like extremely-malleable electrical tape. Then remove the adhesive with some goo-gone. All done!
Hope this help some of you guys. And here, in case you missed it the first two times...
CLICK HERE FOR NO-GHOST VECTOR FILE!
And if you want a guy who will do your logos super-cheap and just the way you want them, check out this fella.
http://www.myvinylworks.com/