By
Alphagaia
- December 21st, 2016, 9:12 am - Posts: 2195
- December 21st, 2016, 9:12 am
#4887618
Straight out of the 2016 film starring Melissa McCarthy, Kristen Wiig, Kate McKinnon, Leslie Jones, and Chris Hemsworth, the "Answer The Call" Ghostbusters make their comic book debut in March in a new comic called Ghostbusters 101 according to the Diamond website which has just updated.
From Erik Burnham, Dan Schoening, and Luis Antonio Delgado, Ghostbusters 101 sees the original movie Ghostbusters travel to an alternate dimension to meet up with the new movie Ghostbusters and deal with a Secret Wars-style incursion event. And, well, bust some ghosts.
more info:
On the big screen, we're never going to see the classic Ghostbusters team partner up with the crew from the latest movie. But anything can happen in comics, so the Avengers moment of the Ghostbusters world is taking place in a new miniseries starting next March.
Revealed as part of IDW's latest list of solicitations, Ghostbusters 101—by Erik Burnham with art from Dan Schoening—will see the original team head back to their academic careers... only for their first batch of students to rip a hole in space and time into the universe occupied by the "Answer the Call" Ghostbusting team. Naturally, hijinks of the supernatural sort will occur from there, necessitating that Egon, Ray, Winston, and Venkman team up with Holtzmann, Erin, Patty, and Abby.
It'll be the first time IDW has gotten their hands on the characters of the new movie after years of series based on the classic team. Only time will tell if it could lead to the new crew getting a comic of their own, but for now, it's cool to have them palling around with the original team, an adventure we're unlikely to ever get on the big screen. Ghostbusters 101 #1 is set to hit shelves on March 22, 2017.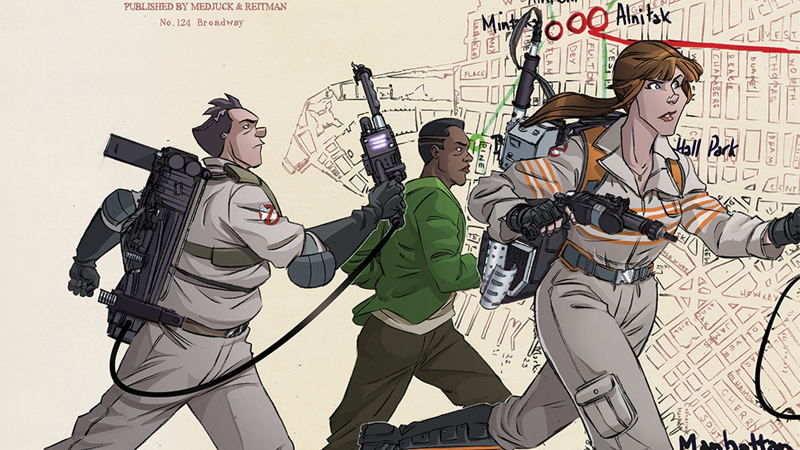 Last edited by
Alphagaia
on December 21st, 2016, 9:59 am, edited 1 time in total.
GB conspiracy:
- If Sony actually did find a way in the contract of Bill to get him to do a GB movie, why did Sony not do a direct sequel?

- If Ivan is against the reboot why did he and Feig have a creative meeting about it where they both happily agreed it should be made?

- If Feig wanted to obliterate GB84 from existence why did he and Ivan both agreed to have nods and callbacks to it?