- May 24th, 2014, 4:27 pm
#4794451
So after my first junk-pack build for a friend
http://www.gbfans.com/community/viewtop ... =2&t=36935
and while I'm waiting for inspiration regarding materials for a more accurate (but no less cheap) version for myself, I thought I'd crack on with something else and after hours lost in awe of everyone else's skills on these boards, I decided a Belt Gizmo would probably be an easy(ish) place to start.
And it's pretty much highlighted my inability to cut anything in a straight line.
I did, however, want to do something different with it. Assuming someone hasn't done this before, they may well have done, but I can't find an example here.
It seems likely that people will ask me what it's for when they see the gizmo on the suit (if they notice it at all!) and I want to have a better answer than "it looks science-y", so I decided to make it scan for ghosts.
Or some kind of ghost alarm.
Or something.
Anyway, this is what I built: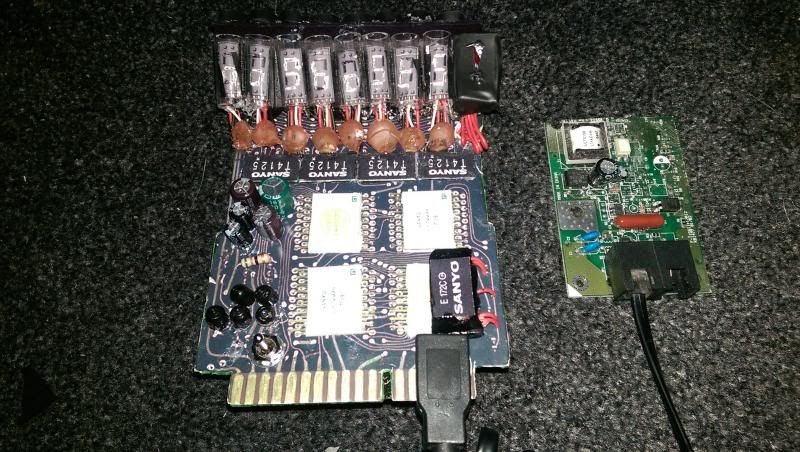 Apologies for the quality of the photo, but it masks the poor quality of the workmanship!
And this is it in the holster:
Which still needs the fastener on the front, but I'm reluctant to start cutting one off my wife's coat/handbag until she gets home and I'm more certain she won't mind/notice.
And this is a crappy video which completely fails to show off how the scanner/alarm/warning thing works:
Basically, pushing the switch one way shows NO GHOSTS in green in the not-really-nixie tubes. Pushing the switch the other way shows GHOSTS! in red with the exclamation mark (point) flashing. Almost. The dot under it isn't flashing yet, but it will.
Probably.
It looks far better in real life, but still needs a bit of work. I printed out the segmented displays and then cut out the bits I wanted to shine through ... the results are a bit wonky. I think I need to print the correct segments out on something transparent so they're a bit cleaner and easier to read ...
But that would involve buying something transparent to print on, which I'm trying not to do.
Anyway, there you are - an almost useful Belt Gizmo.