- September 10th, 2008, 7:13 pm
#66481
FACTS
1. Fact: Columbia Pictures/Sony Pictures have commissioned Lee Eisenberg and Gene Stupnitsky to write a script for a third screenplay. This is what is referred to as development of a film, which does not guarantee by any means the production of a third film. (Source:
http://www.variety.com/VR1117991624.html
)
2. Fact: Harold Ramis has confirmed the writing team to the Chicago Tribune while Dan Aykroyd briefly confirmed the development on E! Online. (Sources:
http://featuresblogs.chicagotribune.com ... is-co.html
and
http://www.eonline.com/uberblog/b26847_ ... a_rap.html
)
3. Fact: None of the original cast has committed to the creation of a third film, in fact no deals with the original cast will be made until the Eisenberg and Stupnitsky script has been completed. There has been NO official or reputable media outlet discussion on casting for the third film and all casting information should be considered rumor at this point. (Source:
http://www.variety.com/VR1117991624.html
)
4. Fact: Jason Reitman (son of Ghostbusters I and II director Ivan) will not be directing the third film. Similarly, his father Ivan is not currently involved in the development of the third film. (Source
http://blog.allmovie.com/2007/12/21/the ... ablo-cody/
)
5. Fact: IMDB has posted multiple entries for a 2010 and 2011 Ghostbusters film. IMDB is user generated content and entries like this are not uncommon. The professional version of IMDB used by studios and industry professionals called Baseline Studio System has updated its record on Sep 5 2008 4:05PM - reflecting the change in status of the project (from "Inactive" to "Development") and listing Lee Eisenberg and Gene Stupnitsky as writers, Dan Aykroyd and Harold Ramis as "Source Material (from Characters)", and lists Ivan Reitman currently as a producer. (Source: Me, Troy - and no, you can't have my login for Baseline)
6. Fact: It is unclear and undetermined how, if at all, the new film being written by Lee Eisenberg and Gene Stupnitsky will tie into any previous concepts for a third Ghostbusters film. No plot details and no story concepts have been publicly discussed.
7. Fact:
Ain't It Cool News
reported at Fantastic Fest, that Bill Murray has stated he knows about Eisenberg and Stupnitsky supposedly writing the script for the next incarnation of the franchise and has also stated that his interest in the franchise has been renewed since recording his voice for the video game. (
Full Official Interview
&
Ghostbusters section of the interview.
)
8. Fact: Harold Ramis has stated, while promoting Year One(written by Lee Eisenberg and Gene Stupnitsky), that the original GBs will be in mentor roles for the third film. (
TheBadAndUgly.com Article
)
9. Fact: Sony confirmed at ShoWest, via their Twitter account, that GB3 is going into production(along with MIB3). (
Via Proton Charging
)
Similarly: Sony president Roy Breuer also announced, personally, at ShoWest that GB3 will be made for a 2011 release. (
SlashFilm.com Article
)
10. Fact: Judd Apatow is not producing or having anything to do with the production of GB3. (
TheBadAndUgly.com Article
)
11. Fact: Sigourney Weaver doesnt expect to be in Ghostbusters 3. (
SciFiSquad.com
)
RUMORS
1. While both Dan Aykroyd and Harold Ramis have expressed excitement of possibility of their involvement, Seth Rogen and Judd Apatow are not currently involved in the development of the film. Additionally, Seth Rogen has told various media outlets that he has not been approached to do a third film but thought it was a "cool rumor." (Source:
http://www.cinematical.com/2008/08/04/c ... rs-sequel/
)
2. John Landis spoke to the GBUK Elite about the possibilty of a CGI Ghostbusters 3. While coming from a reputable source, this information contradicts concrete fact printed in Hollywood trade paper Variety. There are two possibilities, either Landis had heard outdated information (Dan Aykroyd had toyed with the idea in the past but allegedly all of the concepts were worked into Ghostbusters: The Video Game) - or there could be a simultaneous development occurring on a CG feature. (Source:
http://www.gbfans.com/community/viewtop ... =39&t=6496
)
3. Bloody-Disgusting Radio Podcast Episode 6 talks about GB3 and the GB franchise, similarly Ain't It Cool News has collected as much known information on September 4th, 2008 about the third film. (Source:
http://www.aintitcool.com/node/38184
)
4. Dan states that Sigourney Weaver will be in GB3. Weather or not she has actually agreed to be in this yet has yet to be confirmed by her. (
Chud.com Article
)
5. Rick Morannis has not stated that he is coming out of retirement for GB3 even though Harold Ramis has stated he and the rest of the original cast would come back. (
MTV Article
)
Did I miss anything?
Last edited by
Mjollnir
on July 18th, 2009, 9:55 pm, edited 13 times in total.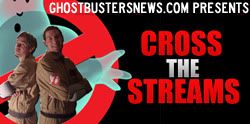 Need a list of clairification about the Ghostbusters 3 rumors and facts? UPDATED July 4th 2009!!
Check out my alternate proton pack project! UPDATE 09/03!!!
ECTOZONE.NET
Ghostbusters West Coast Division
"DaveFrehley wrote: Welcome to earth! Population approximately 7 billion.... 97% of which are morons."
"Dan AKA wrote: I'm willing to place good money that the figures are higher than that."