- November 4th, 2012, 10:51 pm
#421995
My gift to the community. Feel free to take this design and run with it
Inspiration for this comes from the man himself ProtonCharger and this thread:
http://www.gbfans.com/community/viewtop ... 0&start=90
Thanks for getting this idea started.
What you will need for this project is:
For Safety make sure you have a organic fume respirator, some gloves, and safety glasses
1. 1" Thin Wall PVC. I picked up a 10ft section for around $4 at Lowes - part# D-224
2. Pick up at least 2 of these Female adapters at Homedepot
LINK
-
http://www.homedepot.com/h_d1/N-5yc1v/R ... key=Search
I say at least 2 because it may take a couple tries to get it perfect and they are only 44 cents.
3. One of these adapters at Lowes: AMERICAN VALVE 1/2" Expansion Repair Coupling
LINK
-
http://www.lowes.com/pd_1630-33599-P232 ... on%20valve
4. PVC Primer and Cement
5. -Hardware-
- 6-32 - 1/4" or 1/8" Socket Head Screw - I picked mine up at the Hobby shop in the plane section
- 6-32 - 7/8" Socket Head Screw
- 6-32 - 3/4" Set Screw
- 6-32 Tap and Drill bit
6. Acrylic Tube - 7/8" OD 5/8" ID
(Or whatever you choose to use just make sure it ID matches the Wood Dowel)
7. 5/8" Wood Dowel
(You could also use some small PVC, PEX, or metal tube as-long-as the OD matches the ID of your Acrylic)
8. #48U COMPRESSION SPRING 3 1/4" LENGTH X 3/4" DIAMETER .47 WIRE GAUGE - Can be found at Ace
9. Dremel w/ a cutting bit, a 5/8" Grinding Stone, and a 9/32" Grinding Stone
10. Drill w/ 7/32 Drill Bit, and a long 1/8" Drill bit. Like this one:
LINK
-
http://www.google.com/products/catalog? ... OYBEPMCMAI
If you use something other than the wood dowel you shouldn't need this. That being said this is a very handy drill bit.
11. A Permanent marker, 90 degree angle, and some masking tape.
___________________________________________________________________________________
**All the measurements are based on how I want my setup to be.**
I don't see a problem changing things here or there as long as you keep to the basic design.
___________________________________________________________________________________
-First things First Cut your PVC for the Handle.
I went then 2" for the part that goes in the gun because I want that connection to be nice and sturdy. Only a little over an inch will come out the front.
I cut my handle at 6" because that's what I wanted. I believe somewhere around 5-3/4" is accurate.
For the 1/2" PVC I used a piece that was 1-1/2" long
-On to this piece and what its for: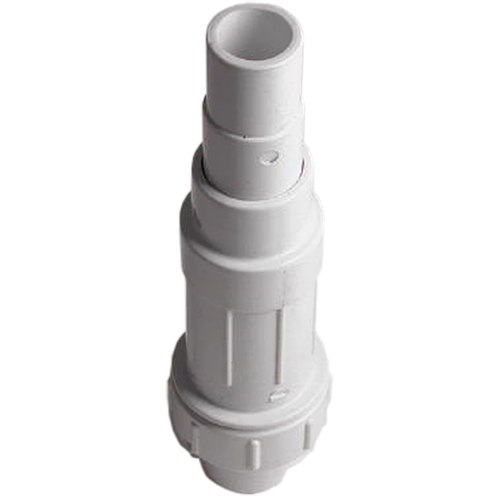 See that part I'm holding... That's all you need.
I'm only going to say this once...
CAREFULLY
Cut the large part off so it can sit flat
Flip it over and cut as close as you can to the edge of that lip
Voilà! You now have your tip converter
Set that aside for later....
-Now for the "Twisting" part of the barrel I went pretty much the same route as PC
In Fact here is the page out of his Pepakura thread:
http://www.gbfans.com/community/viewtop ... 0&start=90
The main difference is I flip the adapter setup and put the screw side in towards the gunbox.
This was to help keep it sturdy.
The total length of the twisting assembly was about 3 - 5/8"
Test fit and then drill out the adapter with your 7/32 drill-bit for the little 6-32 screw head.
Bore the guide adapter out a little
and I mean a little
..
You want to just barely sand the inside.. The 1/2" PVC should twist fairly easily when pushed all the way in.
Now Cement the 1/2" PVC all the way down into the other female adapter.
There should only be 1 hole. But this was the only pic if could find... one that was garbage.. oh well you get it
Use your 5/8" Grinding stone to bore out that PVC for the spring guide
Flip it over and do the same thing until its flush inside
Everything ready for the 6-32 x 1/4" Socket head screw
Done
Remember Pay attencion to the length of this piece as that info will come in handy later...
-Now we get ready to cut the channel that will guide our 6-32 x 3/4" Socket head screw
Tape that twisting piece in the up/release position.
Then put It Screw Side in towards the Gunbox.
Make sure it is on the opposite side of where you cut the channel
Tape it all in position and mark the area where the channel will be cut.
The normal cutting bit works perfect.
One of these will help you keep control of the cut and make sure you don't go too deep.
As you can see I just kinda free handed it.
I came to regret this later. I recommend you use some kind of woodworking vise to hold the barrel in place.
A little bit of clean up is required. You will want to make sure your 6-32 can pass though it easily.
Then cut another channel at 90 degrees towards the tip of the barrel.
The reason for this is so the screw has a place to go into and will help not to twist the acrylic when its extended.
When its in this position you want to mark the inner rotating piece and cut another smaller channel for the guide screw when the acrylic is recessed.
I think it was about 3/8" up from the Main channel.
Test fit to make sure it all works.
Now on to the Spring.
Its pretty simple, Hot Glue... done.
For the guide shaft I ended up using that long drill bit so I could run wires up to the Barrel LED
Now, get your acrylic locked in place on the guide shaft.
I used a set screw for that but unfortunately, I didn't take any pictures of this process.. Sorry about that.
My best advice on that is to play with it for a bit. Test and re-test to make sure it looks right to you.
I took about 2 - 3 days testing where I wanted my acrylic to be.
Once you have that figured out time to start prepping for cement.
Again, Make sure you have your gloves and mask.
Now cement the small side first
Make sure everything is line up when going through this process.
You may be asking yourself where did the spring go?
I ended up gluing that in place mid process.
Again, everything all lined up...
... and done.
These next pics show the importance of that little channel we cut for the recessed position.
You will need to grind out a little area for the screw head on your front grip.
I used the a smaller grinding stone that was about the size of 6-32 socket head.
Test to make sure everything works and once you have it in order tape the hand in place and mark the postion
Now get your barrel attached. This is how I did it.
Then I fiber-glassed it place on the inside
Remember this piece:
Cement that in place and your in the final stretch.
Everything prepped and ready.
Paint...
... and then final assembly. By the time you get here you should have a really good understanding of how everything works.
Here's a little video of it all in action.
The next order of business is to get my green lever to retract the barrel.