- April 16th, 2014, 5:53 pm
#4789905
Sharing my build of a leg hose connector and magnetic attachment system. The hose is easily connected without unwanted random disconnections while "tangling" of the hose results in a safe release, preventing a trip or damaging the uniform or connector. This is MagSafe for Ghostbusters.
A few disclaimers before I start. First, I take no credit for the idea of utilizing pvc fittings… a brilliant idea and I bow in humility to the individual responsible for it. Second, this isn't screen accurate but the parts are cheap, it's fun to build and it gets the job done when it's time to suit up. Lastly, if I needed only a single connector, I would have bought the one Crix offers for sale. If it's anything like his resin "I can't believe it's not metal" pack parts, I know it would be excellent. But using the parts here, I can build the 3 that I need for the price of purchasing just 1. Besides, the effort to assemble is at least five-eights of the fun.
To make one system, purchase the following grey pvc components from your local hardware store's electrical department...
(1) 1x3/4-inch reducer bushing
(2) 3/4x1/2-inch reducer bushing
(1) 1/2-inch offset conduit (provides enough for 4)
(1) 1/4-inch barrel shaped neodymium magnet
(1) >3/4-inch disc shaped neodymium magnet
(1) 3/8 nylon hose barb (or buy a t-connector, same price but makes 3)
I will assume you already have the following at your disposal...
eye protection
hacksaw or other efficient pipe cutting tool
rough grit sand paper (or wheel grinder)
fine grit sandpaper
gap-filling superglue (cyanoacrylate gel)
aluminum foil
paper towel
razor tool
drill with 1/8-inch & 1/4-inch bits
pliers
paint (unless you want grey)
matte lacquer
Lay out the parts on a clean work area. I'm showing enough here for 2 connectors (ignore the 2 tan pvc couplers in the photo, I didn't end up needing those).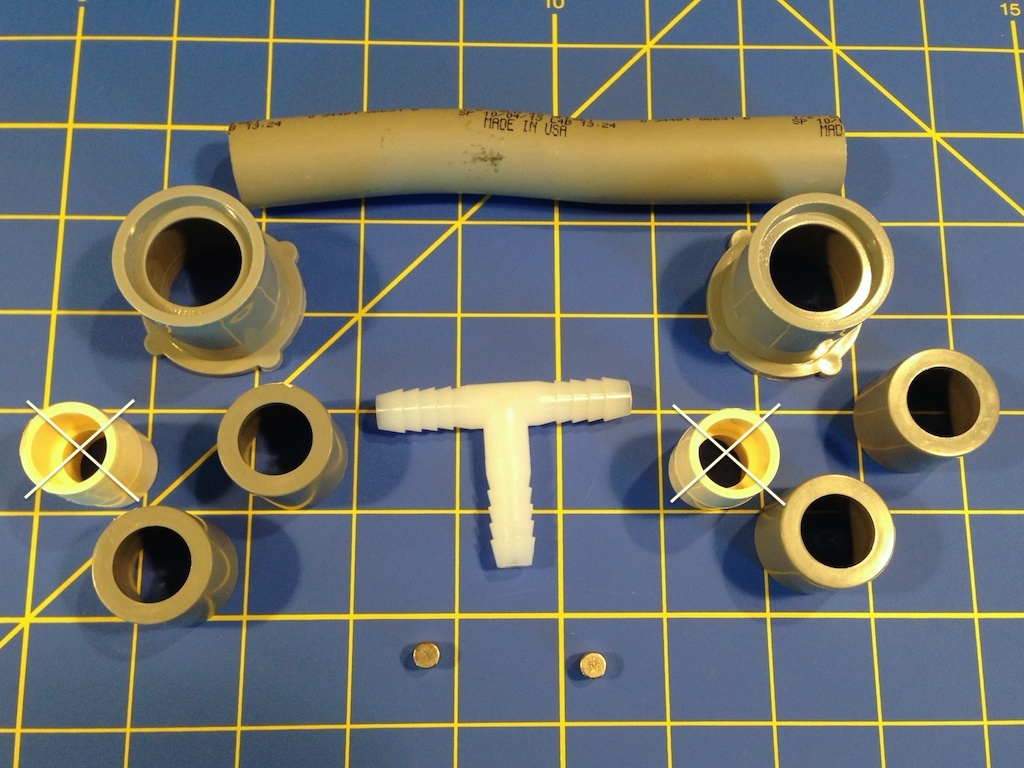 Last edited by
bishopdonmiguel
on September 18th, 2018, 6:05 am, edited 1 time in total.