- January 29th, 2010, 7:00 pm
#203823
Started work on the pack today, using an |alkaline| shell, real Clippards and stuff when I can, and parts from MMM including his new gun kit. I'm still waiting on an ion arm and ion arm assembly, as well as a bumper and the
PROTON PACK THE SILVER LARGE BUMPER STOP FINNED KNOB
, and I haven't gotten a frame and straps yet. The ultimate goal is a GB2 pack.
Today my friend and I mounted the mobo to the pack first (probably a really weird thing to do first), and mostly prepped and primed stuff and drilled holes into things. Anyway, here are a few pictures.
The parts assembled:
Parts in the shop at work. The grips have been prepped and primed in this shot.
Prepping the mobo for mounting - taking measurements and making marks.
Gunbox with Colin's reference marks, plus some holes drilled for the slo-blow box.
L-brackets attached!
Painting the gun knobs - I used a chrome paint, which I think came out really nice looking. If anybody's interested, I'll find out the brand. It was just some paint we had in the shop.
Painting the banjos:
Priming some of Colin's parts - holes drilled out for the HGA, which actually needs to be trimmed a little:
More painting... pretty much most of today was painting.
Oooooh:
Sanding the shell for... painting:
First quick coat or two:
My buddy Nate uses his dremel on steroids to smooth out the shell a little between the fins.
He also cut out the vent holes and the hole for the bar graph.
Here I am working on putting the holes in the bottom of the gun box for the cover plate.
That's it for today - I'm hoping to work more on the gun tomorrow and see what I can do. Let me know what you guys think - I know I didn't take too many detailed pictures, but I think by now you guys all know what you're doing.

Shane
Last edited by
mcfly
on October 25th, 2010, 8:31 pm, edited 8 times in total.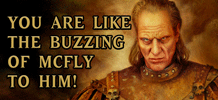 My pack build thread:
http://www.gbfans.com/community/viewtop ... 79&start=0
Until then, this is Peter Venkman saying: