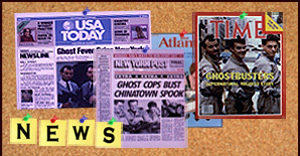 Site Updates
[phpBB Debug] PHP Warning: in file /home/gbfans/public_html/news.php on line 623: count(): Parameter must be an array or an object that implements Countable



It seems almost crazy to be thinking about the post-release period for Ghostbusters: Afterlife seeing as the film hasn't even opened yet, but naturally major retailers will already be privvy to the plans for the film's home release, and we've gotten out first glimpse at what will be offered with a quick look at Zavvi's exclusive steelbook for the film's 4K Ultra HD BluRay - scheduled to retail for £29.99.

Further details are set to become available from noon tomorrow, which we'll amend to this post as soon as we are able.




Posted By: Kingpin at November 17th, 2021, 11:32 am



Comments: | View Comments | Post Reply

---


With four days left until the general release of

Ghostbusters: Afterlife

, the marketing machine enters the final stage of promotion, with tonight featuring a reunion of the surviving Ghostbusters actors on Late Night with Seth Meyers.

If you'd like the catch the reunion, the show is scheduled to air on

NBC

at 12:35 EST/11:35 CT. For those fans who live outside of America, or missed the broadcast, here are some clips from the segment (beware, we've heard there may be spoilers ahead):







Posted By: Kingpin at November 15th, 2021, 12:28 pm



Comments: | View Comments | Post Reply

---

Photo Credit: Buffalo Ghostbusters

In an update

to our previous story

, the full-size replica of the firehouse sign organised by the

Buffalo Ghostbusters

and Sony Pictures has arrived at Hook & Ladder â"–8 in Tribeca, where it was seen being installed earlier today in advance of the New York premier of

Ghostbusters: Afterlife

tomorrow.




Posted By: Kingpin at November 14th, 2021, 12:54 pm



Comments: | View Comments | Post Reply

---


9 Days ago

Hasbro

's

HasLab

revealed the

Plasma Series Proton Pack

, and tonight those fans interested in owning the replica will see that project become a reality as the project has reached the target goal of 7,000 backers to guarantee the product will go into production (as of this writing, the total currently stands at 7,135 backers).

With the first goal secured, Hasbo has started revealing some "Pack Facts", along with some preview images of the Pack's first stretch goal (which can be viewed here), featuring the connection hose for the Plasma Series Spengler's Neutrona Wand, and a pristine set of brushed chrome effect decals.

Be sure to join in the discussion in the

main thread

for the latest on the Plasma Series Spengler's Proton Pack.




Posted By: Kingpin at November 5th, 2021, 4:10 pm



Comments: | View Comments | Post Reply

---



Photo Credit: Mark Lloyd



With the countdown now at 15 days to the general release of Ghostbusters: Afterlife,

Sony Pictures

is now entering the final phase of its marketing campaign for the new movie, including a series of advance screenings... The latest of which took place earlier tonight at

Cineworld

's Superscreen in London's Leicester Square, complete with a replica of Ecto-1 parked outside.

Inside, the multi-media screening was once again introduced by writer-and-director Jason Reitman, his co-writer Gil Kenan, and original Ghostbusters Director and Ghostbusters: Afterlife producer, Ivan Reitman, who went on to interact with attendees at the event following the screening.

The event was also attended by members of the UK's varied Ghostbusters costuming groups, who appeared to have had an enjoyable evening:

It really was incredible. Like oh man.
-Dayne Swaine

I laughed, I cried, I smiled til my face hurt. Best cinema experience in years!
-Gary Scullion

Ya'll won't be disappointed in the movie!
- Mark Lloyd

This event is separate to the full UK premier, which we are told is scheduled for slightly later this month.




Posted By: Kingpin at November 4th, 2021, 6:03 pm



Comments: | View Comments | Post Reply

---