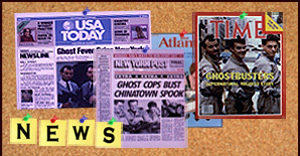 Site Updates
[phpBB Debug] PHP Warning: in file /home/gbfans/public_html/news.php on line 623: count(): Parameter must be an array or an object that implements Countable



One year and eight months after

Rick Moranis

became the victim of an unprovoked assault, his attacker, Marquis Ventura, will be sentenced on August 23rd to two years in prison after he pled guilty to felony assault in the 2nd degree.

The sentence will also factor in six additional charges relating to four other people Ventura had assaulted, according to the Manhattan District Attorney's Office.




Posted By: Kingpin at August 10th, 2022, 11:11 am



Comments: | View Comments | Post Reply

---




Heritage Auctions

is set to hold it's

Hollywood & Entertainment Signature® Auction

event later this week, and has become a regular staple of these auctions, there is a collection of production items from the Ghostbusters franchise which are due to go under the hammer.

This month's lot collection is smaller than those of previous auctions, but featured an interesting signature item alongside two unused Ecotmobile decals: reputedly one of the floating books from the opening scenes set in the basement of the New York Public Library.

Please view the topic for detailed listing of the auction lots. The auction will take place between July 22nd and July 23rd.




Posted By: Kingpin at July 18th, 2022, 5:04 pm



Comments: | View Comments | Post Reply

---


Preface:This is a breaking story.



Eaglemoss Ltd

, producers of the popular Star Trek Starships series, as well as the

"Build the Ghostbusters Ecto-1"

installment model is reported to have filed a notice of intention to appoint an administrator today. News of this notice follows reports from social media earlier this week that the Eaglemoss website is currently displaying a message that orders aren't being processed online, that a customer service page on Facebook had been removed, and that calls to the customer service telephone lines were currently being met with a prerecorded message.

As of this writing, the fans who were collecting the "Build the Ghostbusters Ecto-1" model kit are currently two installments away from completion. While the news about Eaglemoss is concerning, there remains the possibility that following the administration period, the outstanding parts could eventually be sent to the customers who'd ordered them.



GBFans will update this story as soon as more details become available.




Posted By: Kingpin at July 12th, 2022, 4:11 pm



Comments: | View Comments | Post Reply

---


Details about the currently-untitled sequel to Ghostbusters: Afterlife are still scarce, but one tidbit has been revealed via Ghostbusters: Afterlife co-writer

Gil Kenan

, in a new

article

from Deadline : the film is currently scheduled for release on

December 20th, 2023

.

Information on the new film is currently extremely scarce, GBFans will bring you more details about "Ghostbusters 4" as soon as we are able. Feel free to join the discussion here: LINK




Posted By: Kingpin at June 28th, 2022, 11:38 am



Comments: | View Comments | Post Reply

---


2022 is proving to be a busy year for

Jason Reitman

, less than a month since he officially revealed that he's writing the script for a sequel to Ghostbusters: Afterlife with his collaborator

Gil Kenan

, and that the duo will be producing a new Ghostbusters animated series for

Netflix

, Jason will also be taking on additional duties as one of the newest appointed governors for the

Academy of Motion Picture Arts and Sciences

.

In response to being appointed to the academy's Directors Branch for the 2022-2023 period, Jason wrote on twitter:

"What a team. Wish my dad could see this."



Posted By: Kingpin at June 23rd, 2022, 2:07 am



Comments: | View Comments | Post Reply

---