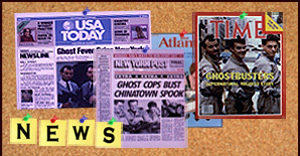 Site Updates
[phpBB Debug] PHP Warning: in file /home/gbfans/public_html/news.php on line 623: count(): Parameter must be an array or an object that implements Countable



In an update to our previous story: whilst in front of an enthusiastic crowd of Ghostbusters fans, families and New Yorkers, The Buffalo Ghostbusters franchise has officially presented the Ghostbusters logo sign to the crew of Hook & Ladder No.8.

Also presented to the crew was a commemorative plaque, featuring the names of all the people who helped raise the incredible $7,900 total, which included the original pledge of $1,000 for the replica. In a subsequent statement made by The Buffalo Ghostbusters, the sign replica was actually donated to the effort by

Sony

and

Ghost Corps

, and that some of the money raised will help to purchase a full-size, weatherproofed sign that can be hung outside of the station for public events, expected later this summer. The remainder of the donations will also be going to the crew of the station.

In a further announcement to those gathered for the event in person, as well as a further 600 people watching the livestream, The Buffalo Ghostbusters also announced plans to make a regular event to raise funds for Hook & Ladder No.8 and its crew each April.

If you weren't able to witness the event live, you can watch it

here





This story has been updated 09/06/2021.




Posted By: Kingpin at June 8th, 2021, 11:08 am



Comments: | View Comments | Post Reply

---


Back in April, the Buffalo Ghostbusters franchise spearheaded a crowdfunding campaign to purchase a replacement Ghostbusters sign for the crew of

Hook & Ladder No.8

, after the screen-used one they had on display, and used for Halloween had been damaged.

The campaign quickly spread across the Ghostbusters fan community, and not only did it raise the intended $1,000 for the sign, produced by the

Hollywood Collectibles Group

, but it had received an incredible $7,900 in donations.

With the final arrangements in place with the Buffalo team and the crew of the Firehouse, a presentation ceremony is scheduled to take place tomorrow to coincide with other events for

Ghostbusters Day

.

The event is set to start at 12:00pm Eastern/9:00am Pacific/11:00am Central/5:00pm British Summer Time, and can be viewed via the Buffalo Ghostbusters Facebook Page for those who can't attend in person.




Posted By: Kingpin at June 7th, 2021, 11:20 am



Comments: | View Comments | Post Reply

---


In an update to our previous article, further details about this year's

Ghostbusters Day

event have been revealed by Sony and Ghost Corps:

The event, hosted by

IGN

will feature directors Ivan and Jason Reitman, and the cast of Ghostbusters: Afterlife: Carrie Coon, Finn Wolfhard, McKenna Grace, Celeste O'Connor and Logan Kim.

The event will kick off on Twitter Spaces from 2:00pm Pacific Time/4:00pm Central/5:00pm Eastern/10:00pm British Summer Time.




Posted By: Kingpin at June 6th, 2021, 1:05 pm



Comments: | View Comments | Post Reply

---


With only a week to go, fans are excited to learn what

Sony

and

Ghost Corps

have in store for this year's

Ghostbusters Day

.

Whilst the particulars are still under wraps, Ghost Corps has teased via a video posted on their

social media accounts

that the day's event will be hosted by

IGN

on Twitter Spaces, and will feature members of the cast and crew of Ghostbusters: Afterlife.



As always, stay tuned for more info as it becomes available!




Posted By: Kingpin at June 1st, 2021, 12:06 pm



Comments: | View Comments | Post Reply

---


For the past three months, Ghostheads have been able to

enjoy classic episodes

of The Real Ghostbusters, and most of the full run of Extreme Ghostbusters via the official

Ghostbusters YouTube channel

, however the episodes are set to disappear from the channel at the end of June, as announced on the Ghostbusters Twitter account:

It's almost summer, which means it's time to turn off the TV and get outside. Catch #TheRealGhostbusters and #ExtremeGhostbusters on YouTube for one last month before they vanish! http://bit.ly/GhostbustersYouTube- Comment your favorite episodes below.
Whilst it is sad to see the episodes depart, as they were a welcome distraction to tide fans over during the wait for the new movie, the uploads have created the opportunity for fans who've never had the chance to watch either series to experience them for the first time.

Classic episodes of The Real Ghostbusters are uploaded Saturdays. Episodes of Extreme Ghostbusters are uploaded Wednesdays.




Posted By: Kingpin at May 30th, 2021, 2:25 pm



Comments: | View Comments | Post Reply

---