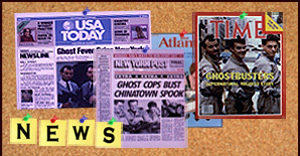 Site Updates
[phpBB Debug] PHP Warning: in file /home/gbfans/public_html/news.php on line 623: count(): Parameter must be an array or an object that implements Countable



Following the teaser during

Hasbro

's

Pulse Con

event last week, Ghostbusters fans have now been given a preview of the Proton Pack replica the toy company has developed to release through its HasLab range, a customer crowd-funded facility similar to Kickstarter.

Here are the details we currently know:


Price:

$399.99/ÂŁ359.99


Features:

Lights and sounds inspired by the screen-used Proton Pack props and how they appear on-screen in the movies.


Design:

Scanned from one of the screen-used props featured in Ghostbusters: Afterlife.


Stretch Goals:


1) The Classic Bundle (inspired by the 1984 movie)
The first stretch goal will include a connection hose that hooks the HasLab Proton Pack up to the Spengler Neutrona Wand. Custom 1984 decals with a brushed chrome look will also be included for your pre-existing Spengler Neutrona Wand.
-

9000 Backers.



2) The Ghostbusters: Afterlife Bundle
The second stretch goal will include 3 Plasma Series Mini-Pufts figures AND 3 alternate, swappable heads, featuring NEW DECO! A white marshmallow goo attachment for the Proton Pack will also be included.
-

11,000 Backers.



3) The Spengler Special
The third stretch goal will include a sheet of Ghostbusters-themed decals and an Egon Spengler 16-page notebook that includes schematics, handwritten notes, and personal anecdotes.
-

13,000 Backers.



4) The Supernatural Stand
The fourth stretch goal will include an exclusive high-quality display stand.
-

15,000 Backers.



One feature of note that was shown with a physical prototype of the replica, and is a small spoiler for something that will be seen in Ghostbusters: Afterlife, was a

This Post Contains Spoilers

The HasLab Proton Pack replica is not supplied with a Proton Gun, but is compatible with the existing

Plasma Series Spengler's Neutrona Wand

.

Those interested in pledging support to the campaign will have until 11:59pm Eastern Time on December 12th, 2021 to do so. The project requires 7,000 backers minimum to be greenlit for production.

If successful, the replicas are expected to ship around March 2023.

More images (including those aforementioned-spoilers) can be seen on the replica's official page.




Posted By: Kingpin at October 27th, 2021, 4:11 pm



Comments: | View Comments | Post Reply

---


With November and the cinematic release of Ghostbusters: Afterlife edging closer, other events of interest to Ghostbusters fans are gearing up. As has become something of a tradition, the Ghostbusters franchise will once again be represented by a selection of items set to go under the hammer at

Prop Store

's

Entertainment Memorabilia Live Auction

(further details of those individual lots can be viewed by visiting

the topic

.

Those who saw

our previous article

on the auction will have noticed a prominent absence: the Proton Pack prop from 2016's Ghostbusters: Answer the Call. We have reached out to Prop Store for further information on this item and will update if we receive a response.




Posted By: Kingpin at October 14th, 2021, 5:00 pm



Comments: | View Comments | Post Reply

---


I was five years old when I sat in a movie theater for Ghostbusters 2. It was 1989 and I was a die-hard fan. Seeing the second film is one of my earliest childhood memories, and I can still recall leaping out of my seat with fear and excitement when Vigo possessed Janosz with a piercing ocular lightning bolt. That moment shook me to my core, but it isn't what cemented my early Ghostbusters fandom. It only added to it. That was over thirty years ago.

By the time that Ghostbusters 2 was released, I was already completely consumed with the Ghostbusters universe; always consuming new episodes of The Real Ghostbusters and begging my parents for any and every new toy. The original film was on constant repeat, and I'm sure I wore out more than one VHS copy of the movie in those early years. There's something so hilarious and specifically 1980's about a five year old busting open his bedroom door and shouting "We came, we saw, we kicked its ass!" to an audience of Muppet Babies posters and Ninja Turtles action figures. This was fandom in its purest form. No message boards, no Rotten Tomatoes, no hot-takes or agendas; just pure enjoyment.

As soon as Ghostbusters 2 was over, I asked my mom when the next Ghostbusters would be coming out. I was obsessed and wanted more. Peter, Winston, Ray, and Egon were my favorite superheroes. They were funny and brave. Smart and sarcastic. They were what I wanted to be when I grew up. They were everything to me. I don't recall what she told me, but there's no way she would have been able to properly set my expectations for what was to come. I wonder how I would have reacted to knowing that it would be over thirty years before the next installment in my beloved Ghostbusters would be released. Can a five year old even comprehend what thirty years is?

As I sat in a room of over two thousand people on Friday night at New York Comic Con for the big surprise screening of Ghostbusters: Afterlife, I couldn't help thinking about that kid in 1989. I wondered what it would be like to go back and tell him that it was going to be a really long wait for the next installment in his favorite thing in the world, but the wait, though agonizing at times, would be totally worth it. I thought about having to explain to him that Egon wasn't around anymore, and even though it was sad, that it was going to be okay and that things like that would make more sense when he was a bit older. I thought about explaining to him that while finally watching the third movie, he would laugh in a way he's never laughed, and smile in a way that he's never smiled, and also hurt in a way that he's never hurt. This complex combination of emotions is difficult to articulate at thirty-seven, so explaining it to my five year old counterpart seems impossible. But I guess I would just want to convey to myself that even though the road ahead will be bumpy, there will be more Ghostbusters movies for you/me to watch and love.. It's just going to be a little bit before we get there.

On Friday night, I finally did the thing that I have wanted to do my entire life. I watched Ghostbusters: Afterlife. I watched it with my life partner, my friends, my Ghostbusters extended family, and a couple thousand strangers. And to top all of that, I watched Ghostbusters: Afterlife in New York City. To go into the details of the film would be unfair to those who haven't had the opportunity to see it as of yet, so I won't dive into any of my specific feelings about plot and characters or what transpired on screen. There will be plenty of time for that once the movie is officially released.

The uniqueness of this specific event is not lost on me. I have never been to New York Comic Con, and have never experienced a Hall-H type panel or presentation. We found ourselves in the front row, maybe ten feet away from the cast and filmmakers. I was overwhelmed in the moment, and pretty sure I blacked out at some point during the third act of the movie.




This wasn't a moviegoing experience. This was a full-blown spiritual awakening. Thirty-plus years of waiting and then finding out the moment has arrived; it was fairy-tale-like but also mind-blowingly stressful. The film was preceded by the panel discussion where we were given the gift of Jason and Ivan Reitman spilling their hearts on stage, with Jason lamenting the fact that none of us would have even been there in that room if it wasn't for what Ivan did in 1984. I watched a doting son and a proud father share an intimate connection of love, trust, and faith in each other's own filmmaking skills.

And it wasn't just the Reitmans that moved me to tears. It was Carrie Coon, Gil Kenan, Celeste O'Connor and the rest of the new group of Ghostbusters. Logan Kim and McKenna Grace aren't that much older than I was when I was in the prime years of my Ghostbusting childhood. What a treat it was to see them own the stage, and without effort, have the entire audience in the palm of their hands. Finn Wolfhard, calm and quiet, and resembling a 1970's Harold Ramis, let his wit and self-assuredness guide us through his own reverence for the franchise, and the respect that he has for Jason Reitman's vision of what Ghostbusters is and what it could be. Just like the original team, they are superheroes. I want to be Podcast as much as my younger self wanted to be Venkman. And I know my younger self would be obsessed with seeing kids his own age flying down rural roads and commanding the Ecto-1. This film was a Ghostbusters fantasy camp. Somehow, Jason Reitman took the least likely scenario for a passing the torch legacy sequel, and turned it into an emotionally satisfying and rewarding coming of age story about family, forgiveness, life, death, and of course the Afterlife. But more than that, he made the dream of a third Ghostbusters movie a reality, and achieved everything he set out to do and more.




The cast and crew deserve every ounce of praise that is going to come their way, and the fans of Ghostbusters deserve the opportunity to see the film without being spoiled. We will spend the next years of our lives pouring over every single detail of the film, and though I plan on participating in the hyper-analysis and fine-tooth easter egg hunting, for the time being I can rest easy knowing that the little kid in 1989 once again got to see his favorite superheroes.

NYCC Screening Experience: A+
Ghostbusters: Afterlife: A+




Posted By: YHSCraig at October 10th, 2021, 7:09 pm



Comments: | View Comments | Post Reply

---


In an update to

our previous story

:

The Buffalo Ghostbusters

have provided a preview of the full size, weatherproofed replica of the original Firehouse sign, which they'd specially commissioned for the crew of Hook & Ladder â"–8:

The Buffalo Ghostbusters wrote:The Ghostbusters sign is done and has been delivered to Hook & Ladder 8!

Prep for its final display is underway!

Huge thank you to everyone who donated and made this possible. Thanks to Sony Pictures and Ghost Corps for their support throughout the process, as well.

And a huge thank you to the team at Signarama for the incredible work they did in replicating the original sign!



Posted By: Kingpin at October 9th, 2021, 4:19 pm



Comments: | View Comments | Post Reply

---


With only 41 days standing between now and the general release of

Ghostbusters: Afterlife

, the marketing machine is continuing to build momentum through merchandise and high-publicity events, like last night's panel at

New York Comic Con

.

The panel saw Afterlife Director Jason Reitman, his father Producer Ivan Reitman, and co-writer Gil Kenan join actors Carrie Coon, Finn Wolfhart, Mckenna Grace, Celeste O'Connor and Logan Kim, with the panel being moderated by Entertainment Weekly's Clark Collis.

During the half-hour panel, the cast and crew reflected on the film, providing quick summaries of their respective characters, and on the gestation of the film's central concept.

Possibly the most poignant moment came when Jason was detailing the moment the film's core story came together:

Jason Reitman wrote:My whole life I was asked... "Would you make a Ghostbusters movie?" -and I made the incorrect, egotistical assumption that people wanted to see my Ghostbusters movie... When the truth is, what we all wanted to see was a Ghostbusters movie. We wanted another Ghostbusters movie, we wanted to get back into Ecto-1 again. We wanted to pick up the Proton Pack again.

And that's where it came from... You know, I've said this story a lot, maybe some of you have heard it before... But, look, there was a moment where I just saw this girl in my head, she was just 12-years-old, and she was picking up a Proton Pack in the middle of a field and I didn't know who she was...

And then I saw this... This teenage guy... And he was in Ecto-1, and he was drifting through wheat fields... And I didn't know who he was...

And when Harold Ramis passed away I suddenly knew who they were... They were the Spenglers, and I knew I needed to tell this story.
As for the future of the cinematic franchise, Jason was optimistic that his film would open the door to "Ghostbusters movies from all of (his) favourite directors", suggesting that he doesn't have explicit plans to create a sequel, but he has hope that others will follow his lead.

At the panel's closing, those in attendance were treated to a surprise bait-and-switch, under the expectation that they would be seeing clips of the new film, they were instead given a special advance preview of Ghostbusters: Afterlife.

For those who wish to watch the whole panel,

Gragon Productions

on YouTube has uploaded a spoiler-free video which can be viewed here:

LINK




Posted By: Kingpin at October 9th, 2021, 8:54 am



Comments: | View Comments | Post Reply

---